Seamless gutters are a great investment for your home
because they're long-lasting, effective at protecting your home from the elements, and require little maintenance to keep them in good shape. To function at peak efficiency, they require professional installation. You need an expert gutter contractor to help you make the most of your investment. Your gutter contractor should be licensed, insured, reputable, local, and be able to demonstrate their workmanship and experience. 
Hire a Licensed Gutter Contractor
When hiring a seamless gutter contractor, make sure they are properly licensed to work in your state. Different states have different requirements for licensing contractors, which means not all contractors are licensed equally. You'll want to make sure your gutter contractor is qualified to work in your state, on your type of project, and check their references to make sure. Choosing the right seamless gutter contractor can mean the difference between having to pay more to fix a mistake and getting the job done right the first time. 
Make Sure Your Gutter Contractor Has Insurance
A good seamless gutter contractor should carry two types of insurance: General Liability and Workman's Compensation. General Liability insurance protects you if anything goes wrong on the job site, and Workman's Compensation protects you from having to pay medical bills if anyone gets injured installing your new gutters. Seamless gutters are cut onsite to be custom fit to your home and then installed. The process involves precision machinery and working at heights where a fall or improper handling of materials could lead to serious injury. When it comes to insurance, you have to go by Murphy's law — anything that can go wrong will go wrong — and be protected in case it does. 
Find a Reputable Seamless Gutter Contractor
It's important to work with a gutter contractor with a great reputation. You should always check references when hiring a seamless gutter contractor — from others they've worked for, and even worked with. If they are known for high-quality work in the community, you can trust they'll work hard to live up to their reputation. When comparing contractors, follow up with their previous clients to make sure their work has held up and the customers were satisfied with the way the job was completed.
Work With a Local Gutter Contractor
When you work with a local gutter contractor, you work with someone who understands the area and has worked on homes like yours in the past. They are familiar with the specific climate of the area and know what homeowners like you need from their gutters. They'll have all the information they need to install gutters that will last a long time and stand up under any weather event.
Find a Gutter Contractor With Quality Workmanship
Contractors know that if something goes wrong, they are often the first to blame, so they make sure to choose products they trust to work well and help them look good. A good gutter contractor will stand behind the materials they're using and the methods they use to install them. They will choose products they trust to do the job right and stake their word that the product will hold up. When the job is complete, you'll have beautiful seamless gutters installed with workmanship you can trust.
Hire an Experienced Seamless Gutter Contractor
Your seamless gutter contractor should have extensive experience installing gutters. While a new contractor may know what they're doing, there's something that comes with years of experience on the job that helps things go smoothly with no surprises. An experienced gutter contractor will understand your concerns as the homeowner and will work with you to help you get a product you will love. They will go above and beyond to make sure the job is done to your satisfaction and help you get the most out of your new gutters. You'll know you can rely on your experienced seamless gutter contractor to help you maintain your gutters and keep them working for you year after year.
If you're looking for gutter contractors to install or repair your home's gutters, get in touch with the Werner Roofing team. We're a trusted local resource with years of experience installing and maintaining a variety of gutter types. We'd be happy to help you, too.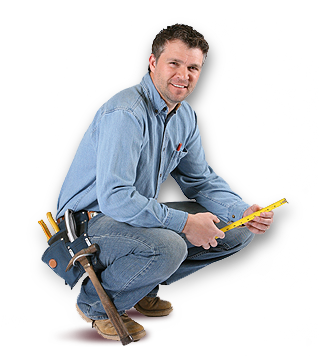 OUR FREE ROOF INSPECTION
How do you know when it's time for a new roof? The only way to be sure of your residential roof's current condition is to have a licensed professional personally inspect it. Werner Roofing is proud to offer free roof inspections for every client, so you can be sure of your roof's condition. Every Werner Roofing inspection comes complete with our promise: "We won't recommend or sell a roof replacement unless it's necessary."