Gutters are a part of your home that you probably don't think about often – especially if they're installed correctly and doing the job they're meant to do. But, if you need to replace your gutters, they've probably been on your mind, and you might not know where to begin. 
You might be surprised to discover that not all gutters are the same size. Coincidentally, choosing the right-sized gutter is the best place to start when purchasing new gutters, so we'll tell you about standard gutter sizes and how to pick the proper selection for your home. 
What Are the Standard Gutter Sizes?
For residential gutters, the standard size is 5 inches. Homeowners can also opt for 6-inch gutters, which hold significantly more water. Gutters 5 inches wide are 3 ½ inches deep, while gutters 6 inches wide are 3 ¾ inches deep. 
While 5-inch gutters are the standard size, some homeowners opt for larger ones. 6-inch gutters are more expensive, but they can handle large amounts of water and are less likely to get clogged. 
What Size Gutter Is Best for My Home?
In most cases, 5-inch gutters will best serve a home. If you're wondering if your home will benefit from 6-inch gutters, there are a couple of factors to consider:
The square footage of your roof

The pitch of your roof

The geographical area you live in
Follow these steps to figure out the proper gutter dimensions for your home:
Calculate the square footage of your roof:
Measure the length and width of each area of your roof.

Multiply each length and width to determine the square footage of that area.

Add those square footage measurements together to get the total square footage of your roof. 
Calculate the pitch of your roof.
Hold a level horizontally, with one end touching the roof's surface.

Measure 12 inches along the level from the end that's touching the roof.

Then, measure the space from the roof to the bottom of the level. 

This number will be your pitch. 
Multiply your roof's square footage by a number determined by the roof's pitch:
Pitch of 0 – 3 inches: no multiplier

Pitch of 4 – 5 inches: multiply the square footage by 1.05

Pitch of 6 – 8 inches: multiply the square footage by 1.1

Pitch of 9 – 11 inches: multiply the square footage by 1.2

Pitch of 12+ inches: multiply the square footage by 1.3
Use the resulting number to choose the right-sized gutter:
If your number is between 5520 and 7500, 5-inch gutters are best. 

If your number is higher than 7500, 6-inch gutters are best. 
Lastly, consider the geographical area that you live in. If you don't encounter a wet season or intense rainfall, 5-inch gutters should suffice. If your area is known for intense downpours, you could benefit from installing more oversized 6-inch gutters.
Need Professional Help With Gutters?
Installing high-quality gutters is one of the best ways to protect your home from water damage. Improper gutters can result in flooded basements, wet ceilings, and rotted roof sheathing. If you don't want to tackle this challenging project yourself, contact an experienced roofing professional. 
At Werner Roofing, we know that no roof is complete without a gutter system to help control and direct water flow safely off your roof. We provide full-service gutter installation and repair to ensure your home's exterior is always in excellent condition. If you have questions about your gutter system or think you might need a repair or installation, don't hesitate to call Werner Roofing. We're here to help!
Give us a call at 616-844-5382 or contact us online today for your free, no-obligation quote.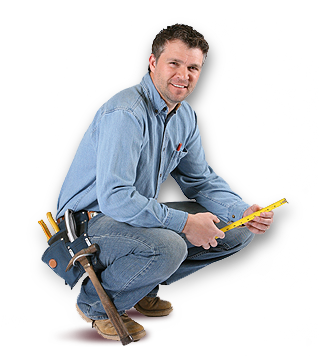 OUR FREE ROOF INSPECTION
How do you know when it's time for a new roof? The only way to be sure of your residential roof's current condition is to have a licensed professional personally inspect it. Werner Roofing is proud to offer free roof inspections for every client, so you can be sure of your roof's condition. Every Werner Roofing inspection comes complete with our promise: "We won't recommend or sell a roof replacement unless it's necessary."